Award Winning
Award Winning
Junior Academy
Junior Academy
Programme
Programme
through to county & national ability level.
Structured pathways from absolute beginner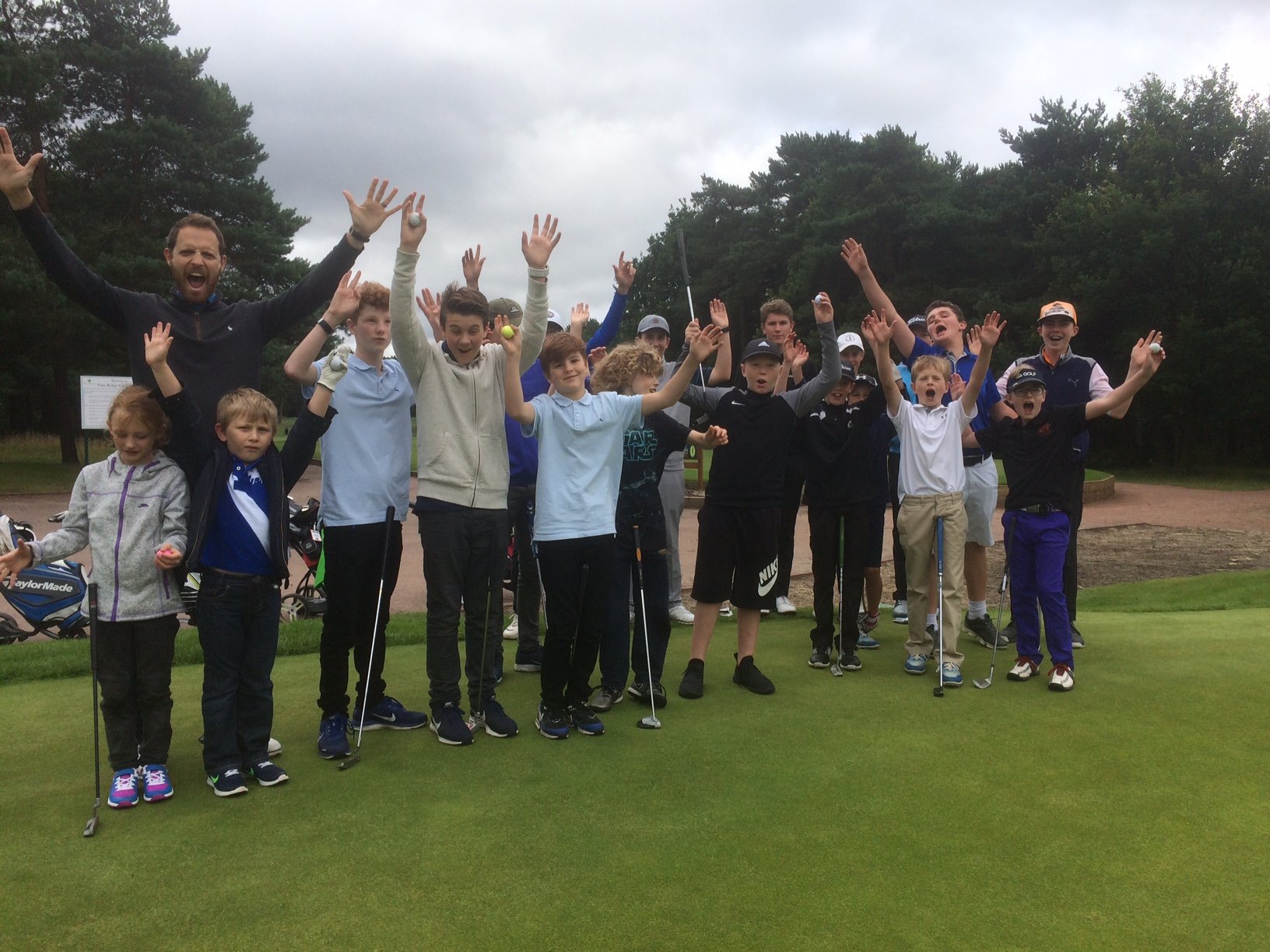 Book a Class
Claim a FREE Taster Lesson
Junior Academy Timetable
Our junior academy classes run on the following days and times:
Tuesday 5:30pm – 6:30pm
Wednesday 4:30pm – 5:30pm
Thursday 4:30pm – 5:30pm
Thursday 5:30pm – 6:30pm
Friday 4:30pm – 5:30pm
Friday 5:30pm – 6:30pm
Saturday 9am – 10am
Saturday 10am – 11am
Sunday 10am – 11am
Sunday 11am – 12pm
Fill in the form below and we'll find a suitable day and time for your child to come along and give golf a go with our expert team of PGA Professionals.
Join our award winning Junior Academy Programme!

1 Hour Weekly Term Time Class
Our lessons are organised by age and ability. Your child will feel comfortable in a class with children of a similar age.

Priority Booking on Holiday Camps
As a junior academy member you can receive priority booking and discount on each week of the holidays. We run 10 camp weeks each calendar year.

Discount on our Junior Golf Tour
A key part of our junior programme are the regular playing events. You will receive a discounted rate to play in these events and parents are encouraged to attend.

Great value & simple payment structure
At just £44.95 per month our Junior Programme offers outstanding value and ease of payment through our online portal. Find out more by filling out a free taster class form below.

DBS & Safe Golf Accredited
You can be confident your children are safe with our coaches all DBS checked & first aid trained. To become SafeGolf accredited coaches we have had to complete all relevant safeguarding workshops and certifications.
Learn more about our Junior Academy
Your children will love our Junior Programme!
An award winning programme, that will provide your children with a great introduction to golf. Coaching includes fundamental movement skills, co-ordination, agility, power that will help improve your child's potential for performance. Read more below:

Golf Course Opportunities
We actively encourage all our golfers to play no matter their age or ability. Starting from just 50 yards away on each hole.

Structured Programme
Work through our programme levels and complete the badge challenges along the way.

Fun & Games Based
Games based learning means your child will love coming to golf and improving with friends

Expert Junior Coaching
Our highly skilled coaches know how to deliver quality coaching to groups of children and get fantastic results.

DBS & First Aid
Our coaches are all DBS checked, have completed safeguarding courses and are first aid trained so you can be sure your child is safe.
"A warm and friendly club. The children learn through games which keeps them engaged. Would highly recommend." Hannah, George's mum
"Its hugely improved over the year with lots more children engaging. Keep up the enthusiasm Andrew as you are doing a great job! Thank you"
"My kids love it and its one of the clubs they do where I can honestly say they have never said "Mum, I don't want to go today". Thank you for everything you do."
"My child loves attending the junior academy. His golf and personal skills have developed so much since attending!"
Frequently Asked Questions
QUESTION
Do I need to be a member to take golf lessons?
ANSWER
No, all the facilities are open to the public and we encourage you to use the bar/restaurant after your lesson too.
QUESTION
How long will it take me to get to a reasonable level?
ANSWER
This will depend on previous experience and the amount of time you have to play and practice. Our individual programmes will guarantee you playing on the course with confidence in 2 months, and our learn to play golf group programme will take you from novice to confident golfer in 10 weeks!
QUESTION
Do I need my own equipment?
ANSWER
No we can supply all the necessary equipment, but if you have any please bring this along with you.
QUESTION
Where do I meet for my lesson?
ANSWER
If this is your first lesson please meet your Professional at the entrance to the driving range, that is located on the left hand side of the car park at Pine Ridge Golf Club.
QUESTION
What do I need to wear?
ANSWER
There is no dress code for lessons, please wear what is comfortable and suitable for the weather conditions. Trainers will be suitable footwear.